Incoming Governor Will Likely Determine Fate Of Tennessee Sports Betting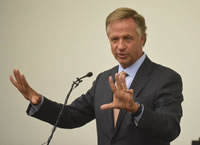 With several states scrambling hand over pocketbook to get sports betting legislation finalized in preparation for the economic windfall the pastime is sure to bring to so many borderline-bankrupt government coffers, the landscape in Tennessee is shaping up to hinge primarily on the forthcoming gubernatorial election. In other words, the incoming governor will likely determine the fate of Tennessee sports betting (at least for now).
Most political analysts expect a Democrat to win the governorship in TN, given that the outgoing governor, Bill Haslam, is a two-term Republican and Tennessee hasn't elected consecutive Republicans to office since 1869 (albeit, in the new age of Donald Trump, nothing re politics seems quite so certain anymore).
At any rate, the two frontrunners for the governorship in TN are Karl Dean and Craig Fitzhugh, both Democrats. In a recent debate, both candidates were asked about their stances on sports betting, and in response, both said that they wish to work with the state legislature in deciding whether or not to institute the appropriate regulations.
Dean, the former mayor of Nashville, was wishy-washy at best, hedging his comment in the noncommittal sort of way that is a hallmark of US political talk talk. Said Dean, "[There are] a couple issues that have to be resolved first. First is whether there is a constitutional issue about whether we need a [statewide vote] or not." The second issue, according to Dean, is that Tennessee "is a state that has not embraced gambling, certainly not embraced casinos. We only recently allowed wine being sold on Sundays."
Good god.
Fitzhugh, who is currently the minority leader in the TN House, went even further with his hedging, pulling out the tired old trope of "education" to make some point or other. Fitzhugh's stance on sports betting is simply this: "Every one of the candidates in this race says 'What are you going to do about teacher salary? We're going to raise them.' … We're going to have to figure out how to do this. And [sports betting] is one option we need to look at."
Good grief.
Why is it that every political approach to gambling – whether it be via the lottery, casino gaming, or sports betting – is predicated on "education"? Haven't people realized after a million years of this nonsense that it's a total lie? Want proof? Check out the NEA's latest numbers on average teacher pay. If you do, you'll see that Tennessee, while just inside the bottom half of states, pays its teachers an average salary of $50,099.
These folks work just a hair over 9 months out of the year, have several paid holiday breaks, a paid week off in spring, and more, and yet Tennessee sports betting must be based on improving these – and only these – workers' take-home pay. Meanwhile, the median household income for TN residents is $48,547. That means that teachers – for whom bookmakers in Tennessee need to be taxed into oblivion – already make more than the average TN household. Who's zoomin' who?
Perhaps these bleating sheep-herder scum need to predicate sports wagering's economic boosts on the money the pastime can redirect into the TN economy from overseas sports betting solutions and neighboring states with casinos and forthcoming sportsbook services. Perhaps – if a Pennsylvania-style model of taxation is paramount – the state can direct those ill-gotten gains to do something useful, like, I don't know, creating new jobs in the foodservice and hospitality sectors that destination gambling unambiguously brings to every region in which it's allowed to operate.
I mean, if all these blowhards want sports betting for is to inflate teachers' already-inflated paychecks to reward them for putting forth a product that is perennially worse and worse in terms of quality, good luck to them. I suppose that, regardless of the impetus, more freedom is always better than less freedom. But come on. Seriously.
It just goes to show that no matter how much immorality or dishonesty certain folks attribute to gamblers and betting, the acts of sports betting and casino gaming are infinitely more honest and moral than the acts of the petty tyrants that try to rob bookmakers blind in the name of "the children."
Next they'll be saying they need legal sports betting "for the roads."
Here's a novel idea for all you would-be pols in sports betting locales: Steal less. Why don't you see how letting folks keep more of the money they earn can help every aspect of the economy that none of you have even the first idea of how to fix.
Back to SportsBettingTennessee.com
Best Tennessee Sports Betting Sites - 100% Trusted + Safe
| | | | | |
| --- | --- | --- | --- | --- |
| | | 50% Up To $250 | VISA + Wire Transfer | |
| | | 50% Up To $1,000 | VISA, Bitcoin, Cash Wire | |
| | | 50% New Member Bonus! | VISA, Bitcoin | |
| | | 100% Up To $300 | VISA, Bitcoin | |
| | | 50% Up To $1,000 | Bitcoin, Wire Xfer, VISA | |