Tennessee Should Use Its Resources To Measure Whether Sports Betting Is Good Or Bad Bet For The State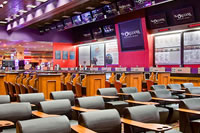 On May 14th, important discussions involving the legalization of sports betting in Tennessee were finally brought into the light. That is because May 14th is the day that the Supreme Court of the United States decided to repeal the Professional and Amateur Sports Protection Act (PASPA). This law had been preventing states from deciding whether or not they wanted to legalize sports betting, taking the right to choose out of their hands with an overarching federal ban. PASPA reigned for 26 years before SCOTUS finally decided to knock it down.
Immediately following this decision, reporters all over the country spoke with leading legislative officials in all fifty states to discern whether or not they would be pursuing legal sports betting now that it was finally an option. At first, it looked like the future of sports betting in the Volunteer state was bleak indeed. Governor Bill Haslem stated "that he was not impressed with sports betting being legal for states now." He went on to say that that's not something he's focused on. Senator Jon Lundberg chimed in, saying that sports betting would not be finding a home in the Volunteer state.
"No, Not in the foreseeable future. We haven't talked about sports betting…I haven't seen any major push or initiative at all."
All seemed lost until one brave Republican Senator took to Twitter. Brian Kelsey, Chairman of the Senate Judiciary Committee, took to Twitter on May 15th, saying that "Tennessee should look into this," in regards to sports betting. Later on that day, he tweeted that he planned on introducing legislation that would legalize sports betting in the state.
Our hero even stated that taxes collected from sports betting would be directed towards funding k-12 education in the state. Isn't that sweet?
But wait, we've got two conflicting narratives here – some representatives are stating that there's no legislation in the works, while others are saying that sports betting is Tennessee's future.
So who's right? Is sports betting going to show up on Tennessee's legislative docket or is Kelsey all talk and no brass?
Well, technically, neither party is wrong. In this case, it's more a matter of waiting and seeing what will happen. Tennessee's legislative session doesn't meet until 2019, so knowing whether or not there's going to be a push for this sort of legislation is impossible. And while Kelsey can say all he wants about bringing legislation to the floor, there's a lot of time between now and the start of session for him to change his mind.
So, what should lawmakers do in the down time between now and session? A few things, actually.
Tennessee actually has the ability to figure out if the cost is worth it when it comes to sports betting. The state has both a legislative and financial think tank that could help them calculate the benefits and deficits of bringing legal sports betting to Tennessee. The Tennessee Advisory Commission on Intergovernmental Relations serves to help the legislation figure out how things can be implemented successfully in the state. The Fiscal Review Office literally calculates the financial impact of legislation in Tennessee.
Both organizations could help to shed some light on whether or not the state should invest time, effort, and money into legalizing sports betting. Using both companies could help people on both sides of the issue gain more facts. If the research shows that they could actually create a profitable business model, legislature might have a harder time shutting out sports betting from Tennessee if the financial impact is significant.
The American Gaming Association estimated that sports betting at online, offshore sportsbooks generated nearly $150 billion in revenue. Even a 1/50th split of that gives the state a great deal of extra cash. Kelsey wants to direct the taxes collected from sports betting towards education.
Tennessee, like many states, has an underfunded K-12 education program and could benefit from additional funds. Then again, what program wouldn't benefit from extra funds? This one just happens to be a worthier cause than say, road repair. Either way, extra funds coming in is definitely something that Tennessee could use, if only to start having a surplus of funds for an emergency that may occur later down the road.
On the flip side of that, the two think tanks could present data that says it's a waste of time to attempt to implement sports betting in Tennessee. From the overhead cost of trying to get a new business off the ground, to determining regulations and amending the law, legalizing sports betting might prove to be more hassle than it is worth.
The point of this is, the resources are there, and should be utilized, so that the sports betting Tennessee residents know for once and for all if the state is going to bring that form of gambling there. All of this is just speculation, of course, and there is no guarantee that sports betting will even make it to the docket next year. Until such a time that Tennessee does make a decision, sports betting will always be available to residents at trusted online, offshore sports betting websites.
Back to SportsBettingTennessee.com
Best Tennessee Sports Betting Sites - 100% Trusted + Safe
| | | | | |
| --- | --- | --- | --- | --- |
| | | 50% Up To $250 | VISA + Wire Transfer | |
| | | 50% Up To $1,000 | VISA, Bitcoin, Cash Wire | |
| | | 50% New Member Bonus! | VISA, Bitcoin | |
| | | 100% Up To $300 | VISA, Bitcoin | |
| | | 50% Up To $1,000 | Bitcoin, Wire Xfer, VISA | |